Kristy is the mother of two boys on the autism spectrum.  Kristy came to RIAC in October 2016 for assistance with her son Jackson's National Disability Insurance Scheme (NDIS) plan and the lack of funded supports provided to him. The NDIS had denied essential funding for Jackson (2years old) to attend Applied Behaviour Analysis therapy (ABA). This therapy was costing the family $75,000; the family had raised this money through spending a lot of their time fundraising. ABA therapy is the most scientifically researched therapy for children with Autism in the world yet the NDIS refused to acknowledge this by only funding Jackson with around 10% of what was needed.  Even the NDIA had commissioned a paper called the Autism spectrum disorder: Evidence-based/evidence-informed good practice for supports provided to preschool children, their families and carers, which recommends a gold standard 20-hours per week early intervention for children who have received a diagnosis of autism. Even the planners had not seen this paper.
During the internal review process the family stated in their review to the NDIS that:
"Currently, we are upset, fearful, exhausted and unable to be our usual selves. Ordinarily we are very attentive, totally hands on, extremely positive, loving and committed parents who are entirely devoted to meeting the needs of our sons. Dealing with the pressures of not being able to provide everything possible for both our boys is detracting from our ability to parent. The time, energy and attention that appealing the NDIS decision takes up, plus having to find innovative and potential ways to fund the essential therapies, is having a detrimental impact on Sam, Jackson and the dynamics of our entire family."
"The decision not to provide Jackson with immediate and intensive treatment NOW is financially irresponsible and sentences Jackson to the probability of lifelong dependence on governmental supports. The literature shows that his developing juvenile brain is at the optimal developmental stage to develop new habits, learn at an increased rate, absorb more new information and adapt the most. Now while he is so young is when funding is desperately needed! We really need to have treatments now, to secure the brightest possible future for Jackson. Investing money into his care now means long term savings. The documented evidence by Little Learners, our observations on his abilities and the opinion of others who have been involved in his care all agree that his therapies are already giving him greater communication skills, enhancing his independence, giving him more control over his physical and psychological challenges. Treatment now gives him more resilience when in difficult situations, adds to his ability to become part of mainstream society and will enable him to mature into someone who is able to contribute as a taxpayer, rather than being reliant on continued supports. Investment in him now will reduce and possibly even negate his long term, lifelong social security and NDIS expenditure."
The review process started on the 8th of November when Kristy Jackson's mother and I as her advocate submitted the first review, which subsequently was denied shortly after. We then together submitted a review of a reviewable decision, accompanying this review was endless reports showing Jackson's progression with ABA therapy, the NDIS commissioned research paper and the backing of their local MP. Then started the waiting game to hear from the NDIS almost three months passed with no contact from the NDIA even though we continued to try and enquire on the progress of the review throughout this period. We were thinking that this may end up in an external review at the Administrative Appeals Tribunal until in January Kristy received a phone call from an NDIS planner telling her that they have decided to review his plan in relation to the therapy supports. When we went into the planning meeting the planner explained that they had never seen this research paper and that they cannot deny funding for this therapy when their own paper states a minimum of 20 hours a week therapy.
Kristy was relieved a week later when she received notification that Jackson's plan had been approved and the NDIS had funded $73,000 for his therapy. Kristy now holds hope again for her youngest son that he will get all the early intervention therapy that he needs to live his life to its full potential.
If you would like to read the Early Intervention for Autism research report.pdf https://www.ndis.gov.au/html/sites/default/files/Early%20Intervention%20for%20Autism%20research%20report.pdf
Photo of Jackson on his 3rd Birthday loving his new birthday present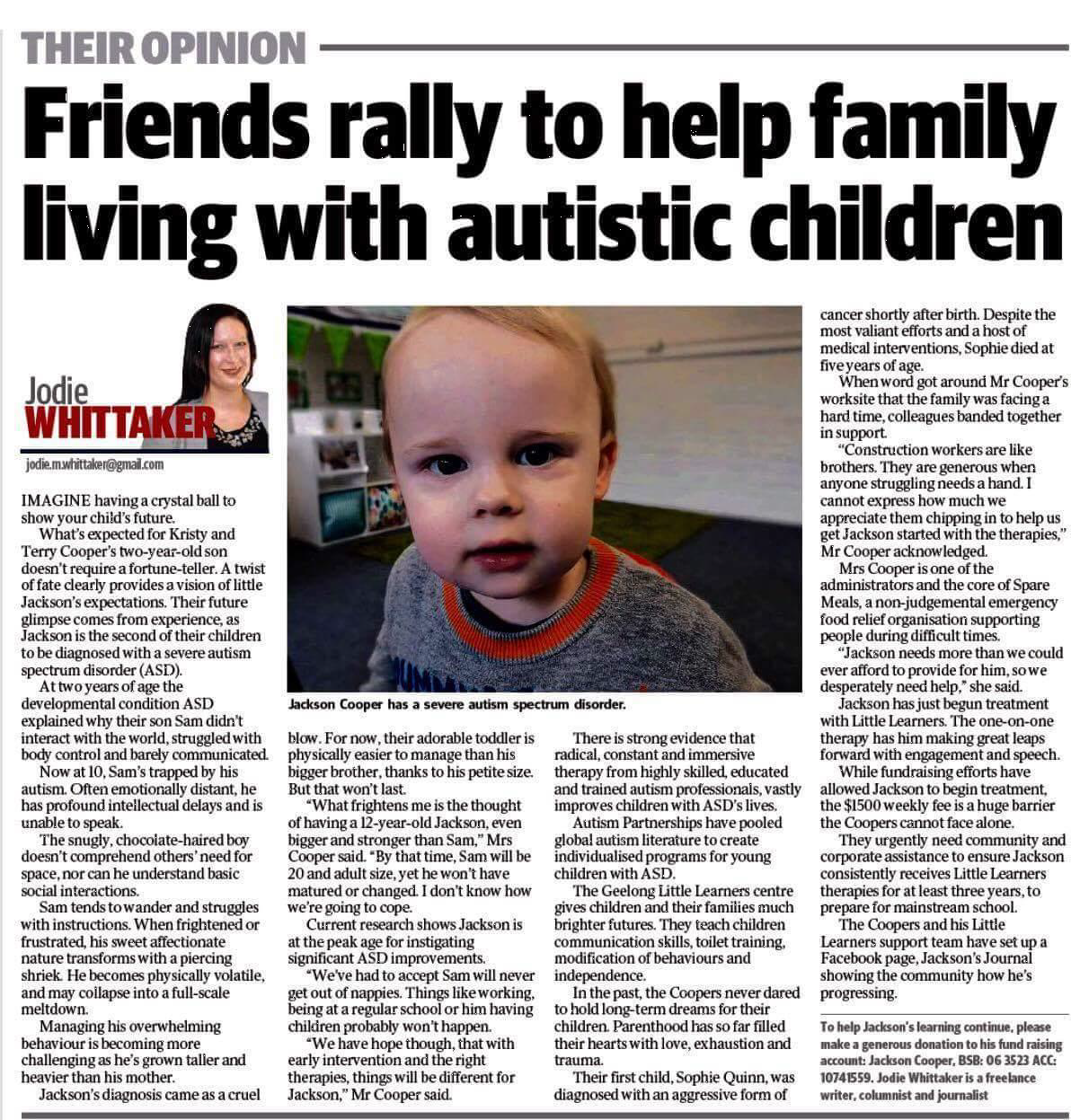 from https://riac.org.au/friends-rally-to-help-family-living-with-autistic-ch...