Schools in NSW are facing "unprecedented pressure" due to soaring disability rates, with the number of students with autism increasing by almost 15 per cent per year and those with mental health needs growing by more than five per cent.
Yet there are fewer staff trained to support them as the number of special education graduates fall and more than half of teachers admit to a lack of confidence in the area.
Education Minister Rob Stokes on Thursday released the NSW Education Department's new disability strategy, which responds to a damning 2017 parliamentary report that found an "unacceptable" number of mistreatment allegations.
The inquiry heard cases of "blatant abuses suffered by students ... such as 'caging and isolation'", facial and head injuries and unexplained bruising, sexual and physical assault, and use of restraint and seclusion.
The strategy found the system faced "unprecedented pressures", with demand for disability support growing at four times the general enrolment growth, while only 9 per cent of teachers were trained to support them.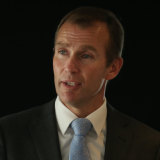 NSW Education Minister Rob Stokes.Credit:Simone De Peak
Fewer disability specialists were graduating university every year, while more than 60 per cent of support teachers were now aged over 50, compared with 43.6 per cent of the wider teacher workforce.
There was significant growth in students with autism and mental health needs every year between 2013 and 2017. Other categories - physical, sensory, and intellectual - declined slightly, while behavioural disabilities fell by more than 5 per cent.
However, intellectually disabled students still made up more than 40 per cent of those with special needs.
Mr Stokes said the government would spend $205 million on measures to fix the problem, such as helping principals hire extra support staff, giving school leaders and teachers extra training, and working with the universities to boost numbers.
"Equality of education is the bedrock that supports the entire public school system. This is why it is our job to support every child's fundamental right to learn in an open and inclusive environment," Mr Stokes said.
A new online portal would connect parents so they could share information. "We must treat parents and carers as partners with us in their child's education," Mr Stokes said.
Henry Rajendra from the NSW Teachers Federation said the strategy was the result of a long campaign by teachers and parents. "Finally it looks like we are heading in the right direction," he said. "This announcement goes a long way to meeting the needs of these students.
"Whether it is enough, we'll see. There's still more to be negotiated. They need to train up more teachers with special ed qualifications, and provide them with permanent work. The last thing these kids need is a high turnover of teachers."
David Roy, a lecturer at the University of Newcastle and a disability education reform advocate who was involved in formulating the strategy, said it was well-researched, and considered the views of many of those involved.
"This is a step forward and a path on a long journey, because if you rush any of these significant changes, than we tend to fail."
from https://www.smh.com.au/education/nsw-sch...
---
Editor: Note that 1.8% to 2.2% of children have an Intellectual Disability but data shows a similar rate of ASD in NSW school-age children. The rate for Intellectual Disability is stable.
One can only wonder what "behavioural disability" is.
Between 30% and 50% of autistic children also have Intellectual Disability ... and most clinicians regard ASD as their "primary disability". The ASD rate is growing significantly.