The recent Government and media vilification of people with a disability (see here), and the failure of non-government politicians to strike back effectively, is alarming. I usually stick to matters relating to autism spectrum disorder, but I have to speak out about this issue.
"Rorters, bludgers, slackers, slouchers, that kind of language that we have seen over the past couple of months reduces and trashes and destroys the brand of people with disabilities to employers," Mr Wallace said.

"I say right here, we are not rorters, we are not slackers."

from http://www.abc.net.au/news/2014-06-29/welfare-review-flags-simplifying-payments-extending-income-mgmt/5557984
Vilification of people with a disability starts with lazy politicians who can't be bothered to understand disability related issues properly. Politicians just ignore the advice they are given about why the number of people getting a Disability Support Pension has increased.
Social Services Minister, Kevin Andrews MP, says welfare is complicated with "Australia's current welfare system is incredibly unwieldy, with around 20 payments and 50 supplements" (see this). But his NDIS transition offers inadequate explanation of changes: the NDIS says "People who receive the Disability Support Pension and who can access assistance from the National Disability Insurance Scheme will continue to receive their Disability Support Pension payments from Centrelink" (see this) but the NDIS replaces mobility allowance. People in the disability sector need a clear explanation about what happens in the NDIS transition for the other approximately 19 payments and 49 supplements.
The Government claims DSP growth in "unsustainable" and implies growing number of DSP recipients are "leaners" rather than "lifters". Not so: the Government ignores the advice it is given, such as ...
The main driver of growth in DSP receipt, [the Parliamentary Library argues], has been changes to other payments, such as the increase in the age at which women can receive the Age Pension; the closure of other income support payments such as Mature Age Allowance and Partner Allowance; and tightening of eligibility for Parenting Payment. The increasing disparity in payment rates between NSA and DSP in recent years has also probably made it much more likely that people with some capacity to work who may previously have registered for the former, are more likely to apply for the latter so as to receive higher rates of payment and be subject to a more liberal means test.

Indeed, the authors show that the percentage of the working age population with a disability receiving welfare has declined since 1993, leading them to wonder 'whether there would be quite so much concern about the rise in DSP receipt were this simple fact widely appreciated'.

http://www.aph.gov.au/about_parliament/parliamentary_departments/parliamentary_library/pubs/rp/budgetreview201415/dsp
No one in the Parliament or the mainstream media even mentions that increases in DSP recipients is due in part to decreased job opportunities for people with a disability … with the Government itself leading the decrease in employment of people with disability. The departing Disability Discrimination Commissioner reminded us that ...
"In the mid 1990s, 5.8 per cent of the Commonwealth government workforce were people with disabilities, but by 2005 that had fallen to 3.8 per cent," former Disability Discrimination Commissioner, Graeme Innes, said.
https://newmatilda.com//2014/07/02/outgoing-disability-commissioner-delivers-mixed-govt-review
Growth in DSP recipients in the last decade (Figure 1 below, data from DSS and ABS) has been modest. And most of the growth has been in the 45-64 age range, not in the under 35 year olds that the Government is targeting. The Howard Government's Welfare-to-work verbal attack on DSP recipients, and the Gillard Government's similar attack each had negligible effect, no where near the massive reduction those Governments expected in DSP recipient numbers.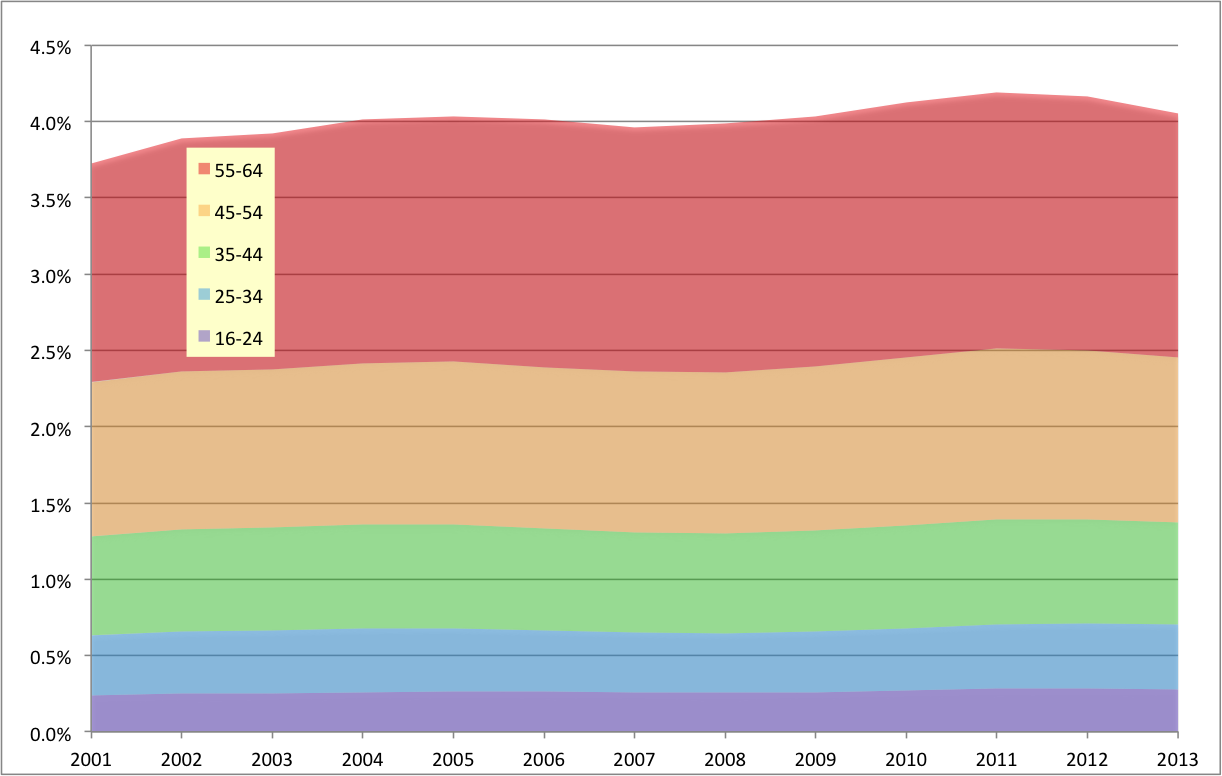 Figure 1: DSP recipients age breakdown in Australian population
Governments' previous vilification of people with disability was proven unjustified and ineffective.
The current Government offers no reason to expect their vilification of people with a disability will have the different outcome that they claim.
Non-government politicians are not sending an effective message in the media: there has only been minor media cover via the ABC (see here).
Opposition frontbencher Anthony Albanese says the Government is targeting the vulnerable.

"People, through accidents at birth or indeed accidents during life ... find themselves with severe disabilities," he said.

"They deserve better than to be told they are just a burden on society ... the problem with this Government is that it treats people in that way."
All politicians need a much better understanding of disability issues. And they need to chastise the media when they mis-report or misrepresent disability issues, or vilify people with a disability and their carers.